Taking Care Of Your Drone Operations.

The first and only drone management platform combined with end-to-end client support services.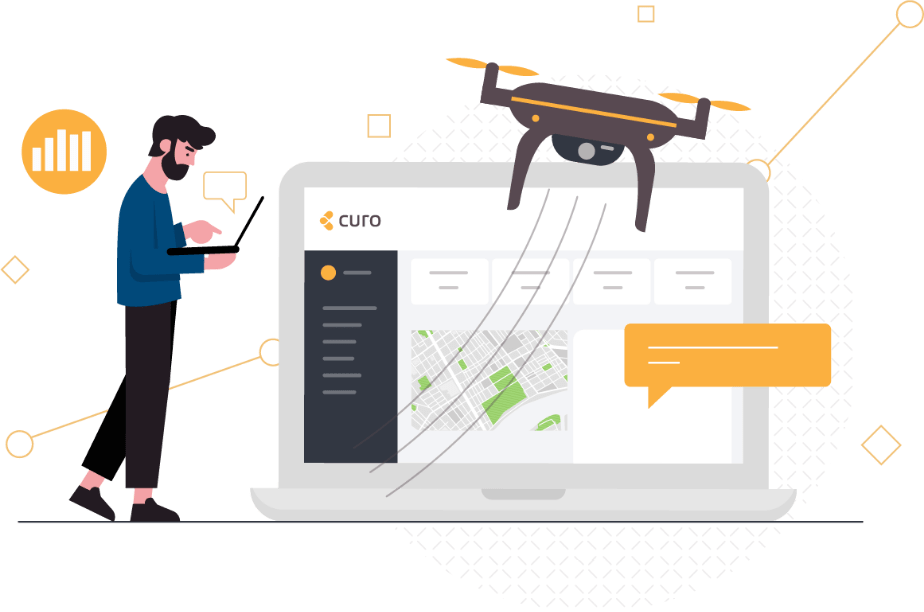 Curo: Verb | Latin, Meaning To Care For; Pay Attention To; To See To A Thing Being Done'
Automation. Compliance. Data. Enterprise Control.
Automated data and reporting across procurement, maintenance, training, and reporting.
Simple, easy to use dashboards providing visibility on flights, personnel, assets and more.
Compliance And Case Management

Best-in-class for drone compliance and regulatory risk reduction by providing secure and auditable reports.
Enabling visibility and creating opportunities to scale, innovate and make strategic decisions.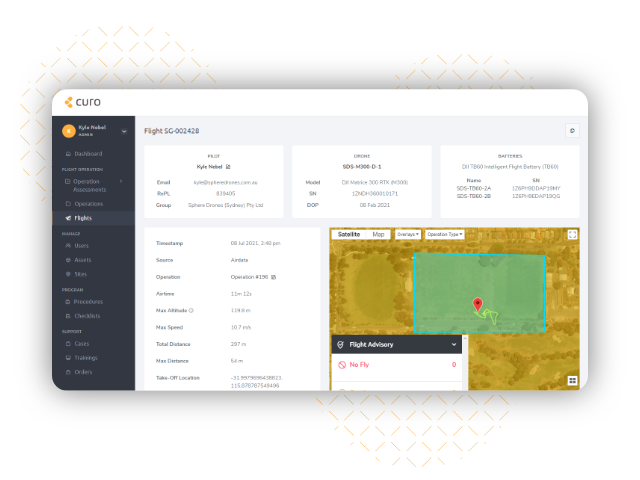 Managing your RPA compliance and risk, Curo will ensure you tick all the boxes.
All-inclusive Biannual maintenance and reminders to keep your assets operating risk free.
Data rich record keeping from flight logging, pilot and operator tracking and data analytics.
Record keeping of individuals' details and credentials and the ability to assign access.
Record keeping across procurement, registration, tracking, ownership and maintenance.
Informative and meaningful data available via the Curo dashboards and also available for extraction.
Automated email notifications and alerts across a range of functions, triggered by customisable events.
A single portal to track and query all Drone program-related purchasing records.
Expert service, support and knowledge from the people who know your operations best.
Curo Provides Operational Simplicity And Certainty For Your Enterprise Operations. 
Frequently Asked Questions (FAQs)

If you can't find an answer to your question or query on rentals in our FAQs, please don't hesitate to call us 1800 841 714 or email us at info@spheredrones.com.au
Curo is charged out on a per drone, per month basis. We have multiple pricing tiers designed to suit you. Reach out to one of our team members to find out more.
How do I get my drone program information iinto Curo?

Once you've signed up to one of our programs, our team will work with you to understand your drone program, auditing your assets and personnel. Once that's complete, we'll take care of ingesting it into the system and delivering the platform to you, ready for use.
What do you do with my data?

Any data made available on Curo is not sold or distributed without your permission. Data may be used to develop insights into how Curo can be improved to better serve our customers.
If I have Curo does this mean I don't need to worry about compliance?

Adherence to drone regulation requires complete stakeholder investment. Curo is a tool that aids compliance by enabling personnel to complete their tasks efficiently, accurately and above all lawfully. Speak to one of our expert team members to find out more.
Where/how is my data stored?

All of your data is stored on local AWS infrastructure and is backed up daily.
Can you integrate with my existing software?

Yes. Curo is able to integrate into your systems and is flexible to your requirements. Speak to one of our team members to find out more.
Can I request changes to the platform?

We'd love to hear about how your instance of Curo can be improved. We even have a dedicated button for it! You'll be able to use the built-in feedback form to let us know of any feedback, all of which is reviewed by our development team.
Talk to us about Curo
If you have a question or would like to know more, fill out the form below and our team will get in touch with you as soon as we can.